(Plant Patent 3271) - Double, rose red KLEHM ESTATE PEONIES, hybridized by Carl G. Klehm Registered by Klehm Nursery, Rt. 5, Box 197, S. Barrington, Illinois 60010

GLORY HALLELUJAH (F)(L)(Carl Klehm) A mammoth size full double composed of a rich blend of lustrous cherry-red, rose-red and bright pink tints with silver tips at the petal edges as the bloom matures; the last peony to emerge in the spring, and just when you think it didn't make it through the winter, it's up and ready to dazzle

GLORY HALLELUJAH
Flower type: Peony—Double
Size: 36"
Plant zone(s): 2-8
Bloom time: Late
Hybridizer: Roy G. Klehm
Late blooming double with rich blend of cherry red, rose-red and vivid pink accentuated by silver-tipped petals. Pleasingly fragrant blossoms. Good cut flower.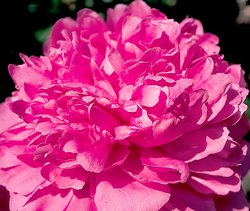 (+17) Late blooming beauty …to end the season ! Glory Hallelujah bears large double flowers of a vivid cherry red/vivid pink color. As the flower matures, some silver accents appear on the upper extremities of the petals. Plant of 90 cm. A support will improve the presentation. A late bloomer. Delightful fragrance. Makes an excellent cut flower.
(+17) Beauté tardive….pour terminer la saison! Glory Hallelujah est une pivoine aux larges fleurs doubles d'un rose cerise vif. La fleur prend des reflets argentés à mesure qu'elle avance en maturité. Plant haut de 90 cm. Un support améliorera la présentation. Tardive. Excellent parfum. Fait une très bonne fleur à couper.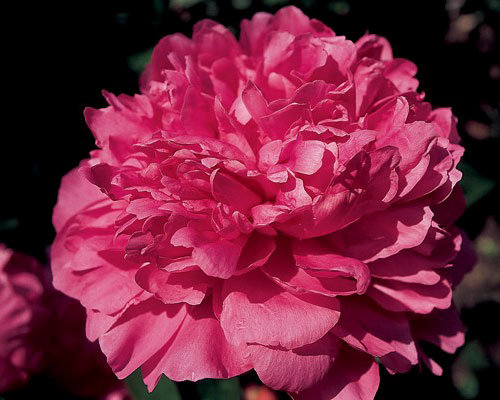 Brian Porter on y!groups #9184
I agree with Michael's assessment of Mother's Choice - it is perhaps the best double white lactiflora that I grow - the flower form is really great on this one. It has some fragrance too, which is not mentioned in the APS checklist.
Another close favorite, which is really blush-white, is Mary Eddy Jones. I have been awed by the flowers it has put out the last few years - absolutely huge blossoms. I entered it in our local peony show and it came close to being considered best in show - a few petal blemishes were the only thing against it.
Unfortunately, it does have a fault - the flowers are so heavy that stems can snap, even when supported. Nevertheless, I wouldn't want to be without it.
This year it was one of the most vigorous peonies in my yard.
A close second for vigor would be Glory Hallelujah, dark pink lacti. It's stems are strong, but it will bend down in full bloom and benefits from support too. It is one of the last to bloom in my yard and I value it for extending the season.
For earlier hybrids, Smouthi, Firebelle and Burma Ruby are showy favorites that stand up well without support. Ludovica is another hybrid (pink) that is a favorite of mine. If it has a fault, it would be that the flowers gradually fade white and need deadheading. It is one of the shortest peonies I grow.
Does anyone grow Taki No Yoso'oi (not sure if I have the spelling correct)? If so, can you distinguish it from Sarah Bernhardt? I received a misnamed peony a
few years from a nursery that also listed Taki. I haven't had a chance to compare it (my Sarah Bernhardt is in a different yard), but I suspect it may be Sarah or Taki No Yoso'oi. Brian Porter Regina SK Canada