BORDER CHARM - Don Hollingsworth, 5831 N. Colrain Ave., Kansas City, Missouri 64151, July 7, 1984. Seedling #206. Itoh Hybrid. Tree peony type, semi-single. Parentage - Paeonia lactiflora cultivar x P. (Lutea Hybrids) 'Alice Harding.' First bloomed 1974. Itoh Hybrid, generally semi-single, tree peony type flowers, petals yellow, lighter colored at the outer ends with large red flares and a prominent center of sheathed carpels. Medium-sized flowers on 24-inch stems are close to the large leaves. Stems arching to sagging, form a wide, low bush which comes back from below ground over-wintering buds each spring, very hardy and unaffected by severity of winter climates wherever tried. Distinctive, dark green leaves hold their appearance until hard frost, which together with the bush form makes an excellent plant for the position of a low shrub. A vigorous grower which does best under excellent soil fertility. Season-long height of the bush about 18 inches.
Border Charm (Hollingsworth 1984) Midseason-Late midseason.  Best Landscaper  Single; yellow petals, paler at edges, large dusky flares at the base, medium size flower.  Stiff stems have a striking horizontal posture, making this an especially interesting choice for the position of a semi-prostrate shrub.   Looks great reaching out over stones in the position of a prostrate shrub.  Vigorous, prolific increase, matures at 20" high and 50-60" wide.  Item 0206.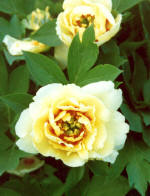 (Songsparrow): Flower type: Peony—Single
Bloom time: Mid
Hybridizer: Don Hollingsworth
Compact and dwarf grower that reaches approximately 24" tall by 24" wide. Soft and rather delicate sulfur yellow single, nodding blooms. Rich deep bluish green foliage. Works well in perennial border
Yellow, single, midseason, 22" tall, intersectional. This yellow intersectional is quite short and a good subject for positioning as a prostrate shrub flowing over rocks.