Heinrich Handel-Mazzetti: [A Botanical Pioneer In South West China] - title
A BOTANICAL PIONEER IN SOUTH WEST CHINA
Experiences and Impressions of an Austrian Botanist During the First World War
HEINRICH HANDEL-MAZZETTI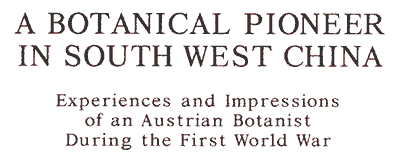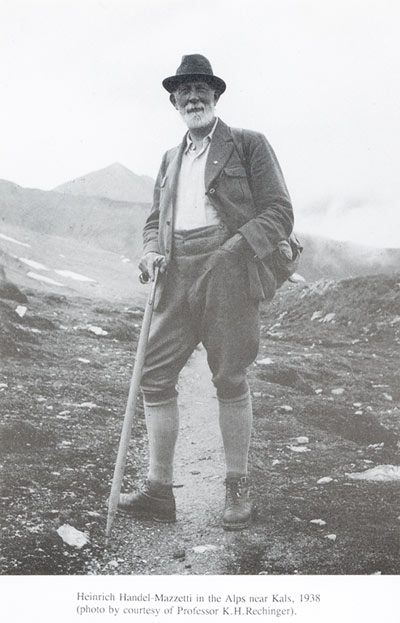 Heinrich Handel-Mazzetti in the Alps near Kals, 1938 (photo by courtesy of Professor K.H.Rechinger).
A BOTANICAL PIONEER IN SOUTH WEST CHINA
Experiences and Impressions of an Austrian Botanist During the First World War
HEINRICH HANDEL-MAZZETTI
Keeper of the Botanical Department, Natural History Museum, Vienna
With 48 photographs taken by the author and seven maps
First published as "Naturbilder aus Südwest China" by ÖSTERREICHISCHER BUNDESVERLAG, Vienna, 1927
English translation, complete and unabridged, with biography of Handel-Mazzetti by David Winstanley
Published by David Winstanley, ETS 20 St Thomas Road, Brentwood, Essex, CM 14 4DB, England
Printed by Antony Rowe Ltd, Chippenham, in Roman T ISBN 0 9529230 0 9 Copyright ® 1996 David Winstanley
Front cover: In the Salween Valley. View from Alülaka (2850m) over the Tschamutong (Gongshan) basin (right) to the Gomba-la (about 5500m) in the Salween-Irrawaddy divide. Left: the Tjiontson-iumba.
From left to right: Pinus insularis, Querais dentata, Buddleia asiatica, Deutzia corymbosa, Leontopodium sinense, Bletilla yunnanensis, Pteridium aquilinum, Carex cruciata.
Lao Li; a Tibetan from Londjre; Kru (behind): Li Tere (right).
From an oil painting by Eduard Handel-Mazzetti based upon several photographs by the author.
Reproduced by courtesy of Prof. Dr. Michael Hesse, Director of the Institute of Botany and Botanical Garden, University of Vienna.